Following a successful first Demo Day in January 2021, Health Founders and Health Incubator Helsinki are joining forces again to give eight bright startups a floor to present their groundbreaking solutions in order to ease and prevent the healthcare burden. Join this free online event on 15 December (14:00-17:00 EET) and register here!
Health Economy Demo Day, taking place online on 15 December 2021, will showcase promising healthtech startups from Finland and Estonia. The event welcomes investors, startups, health enthusiasts and ecosystem players to tune in, learn more from the startups' solutions and support the startups to reach new levels towards offering relief to patients and healthcare providers.

"The startup teams have grown remarkably within the last 9 months since they started the Health Founders accelerator programme – we are extremely proud for them. This event is a unique concept that brings together the gems of Estonian and Finnish health ecosystem. We are seeing more and more investors searching for suitable investment opportunities – and they can find them at this event", says Founding Partner of Health Founders, Erki Mölder.
"The event is one stepping stone in building a strong, international, Finnish-Estonian health innovation community. When competing in global markets, increasing the cross-border collaboration in the FinEst Bay Area is really important. With this event, we want to offer investors a focused view on the region's health tech startup scene at one glance, as well as bring the startups from both countries closer together", adds Senior Business Advisor Lauri Kuronen from Health Incubator Helsinki.
Meet the eight promising startups pitching at Health Economy Demo Day: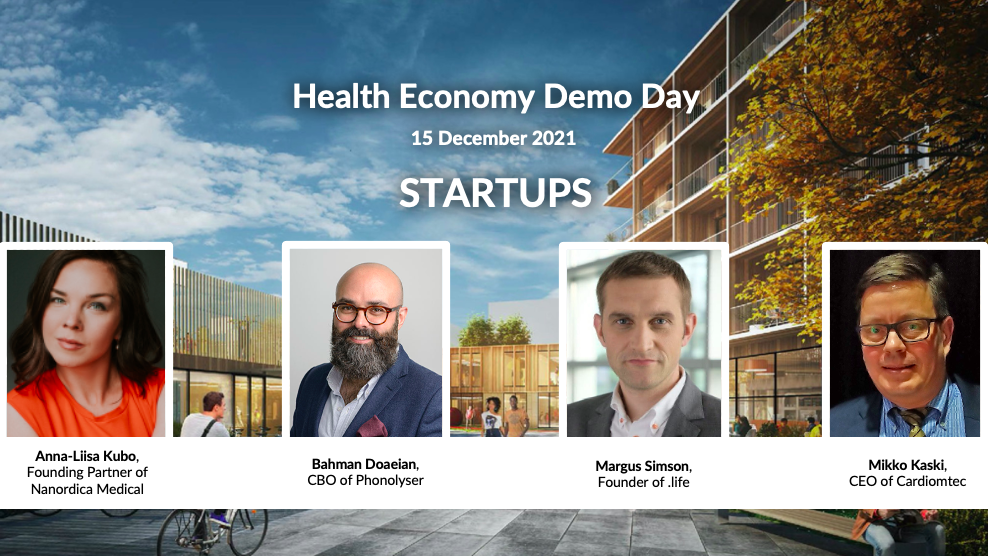 Nanordica Medical (EST)
Nanordica Medical has invented and patented a nanoformula enabling it to develop 8x more efficient antibacterial products compared to the existing market alternatives.
Phonolyser (FIN)
Phonolyser has developed a smart heart sound analyzer that combines AI (signal processing and analyzing), doppler-technology, and sound analysis to comprehensively assess and investigate the existence of congenital heart diseases on newborns and babies.
.life (EST)
.life is developing a unique AI-powered psychology-based application, which aim is to help those who are under constant time pressure and experience lack of balance as well as those who are in the middle of a burnout or are dealing with mental health problems.
Cardiomtec (FIN)
Cardiomtec is making whistleblower software for the heart, making early identification of cardiac issues possible through a device that measures and analyzes the activity of the heart using an ECG signal.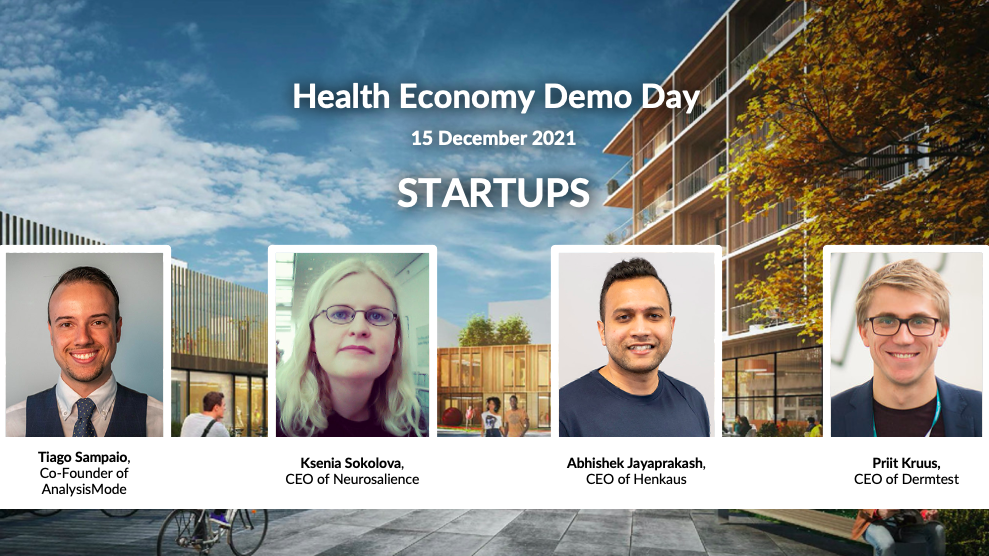 AnalysisMode (FIN)
AnalysisMode is an AI platform for Biotech R&D empowering scientists to yield 5x more results. From predictive analytics to designing lab experiments, AI steers the R&D
towards success.
Neurosalience (EST)
Neurosalience is a tool for early detection of dementia from structural MRI and CT data capable of processing even low-resolution MRI data and CT scans.
Henkaus (FIN)
Henkaus provides medical grade vital signs measuring solutions for remote patient care. Our trustworthy measurements can be used for diagnosis by medical professionals and service providers.
Dermtest (EST)
Dermtest is a digital toolbox for skin and wound care. Dermtest includes an app for capturing skin problems or wounds at home as well as empowers local doctors and family physicians to provide early access to suspicious mole check-ups.
Boosting motivation and providing investor contacts
We certainly got a great motivational boost along with several investor contacts which led us to our recent pre-seed investment.

Katrina Laks, CEO of Migrevention
Migrevention (EST) was selected as one of two winners at the previous Health Economy Demo Day, held at the beginning of 2021. Demo Day provided the company with investor contacts and motivation.
"At that time, we were a less than a year old pre-product/market company. As of now, we have brought part of our digital headache clinic and a simple digital headache diary with headache nurse support to the market and found a product-market fit in Estonia. We certainly got a great motivational boost to go further with our development from the Demo Day along with several investor contacts which led us to our recent pre-seed investment. The FinEst Health Economy Demo Day is a great and distinct event to get a glimpse of Estonian and Finnish novel healthcare innovation", says Katrina Laks, CEO of Migrevention.
About Health Incubator Helsinki Health Incubator Helsinki is a comprehensive incubator program in Finland for research-based, early-stage teams and startups operating in the health sector. The program is currently a home for 24 promising teams. 

About Health Founders Health Founders is the first health economy accelerator in the Baltics with a mission to launch 100 new health tech companies over the next 10 years. Based in Tallinn, Estonia, the unique program brings together ambitious founders, experienced mentors and forward-looking industry partners to build the future of health.
The accelerator is open for new applications for 2022: https://healthfounders.ee